Metanium Nappy Rash Ointment
from Boots - Baby Creams
Available at Boots - Metanium Nappy Rash Ointment.

Metanium Nappy Rash Ointment soothes and treats baby's skin affected by nappy rash. Metanium is a topical ointment, which rubs easily into the skin to treat nappy rash.

Free standard delivery is available on orders over £45. Next day delivery is available from £4.75. Items can also be collected from your local store free of charge on orders over £20.



Click here to view more creams and ointments on Parent Ideal - All the best mother and baby product retailers in one place.




Further suggestions and product images:
Have you checked the other sellers of the Boots - Baby Creams to see who offers the lowest price? You can find the details here.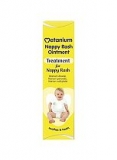 Other options for Boots - Baby Creams