Boots - Lindam Safe & Secure Playpen
from Boots - Stair Gates
Boots - Lindam Safe & Secure Playpen.

This convertible and versatile playpen is suitable for use up to two years. It is made up of six steel panels that can be used as a play pen, fire guard, safety gate or room divider. The opening of the gate has a swing shut mechanism to aid a one- hand operation.
There is no drilling or screwing required and the base is washable.

Free standard delivery is available on orders over £45. Next day delivery is available from £4.75. Items can also be collected from your local store free of charge on orders over £20.


Click here to view more stair and safety gates on Parent Ideal - All the best mother and baby product retailers in one place.




Further suggestions and product images:
Have you checked the other sellers of the Boots - Stair Gates to see who offers the lowest price? You can find the details here.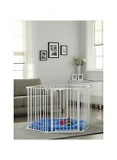 Other options for Boots - Stair Gates